Trade Turbulence Impacts Global Markets
Third-Quarter International and Global Insights from
Chautauqua Capital Management
Issues surrounding trade policy had an outsized impact on global equity markets in the third quarter. The trade war between the United States and China picked up steam, exacerbating weakness in consumption and industrial production in China even as the U.S. economy appeared to be gaining momentum from tax cuts and stimulus measures instituted earlier in the year. Meanwhile, the European Central Bank (ECB) faces a potential crisis of confidence due to that region's trade war with the U.S. and stalled negotiations with the United Kingdom over Brexit.
In their third-quarter commentary, the seasoned investment professionals at Chautauqua Capital Management reflect on the dynamics that moved global markets in Q3 and offer their perspective on factors they're watching in Q4, including:
Potential escalation of tensions between the U.S. and trading partners around the world
The global impact of various central banks' monetary policies and inflationary pressures in the U.S.
Challenges facing emerging markets around the world
"While President Trump often cites the massive trade deficit with China, the real issue in U.S.-China trade relations is not the headline number but the government policies that distort competition, including subsidizing state-owned enterprises, requiring technology transfers, constricting market access in certain industries, and even manipulating the yuan."
Our Strategy
Our conviction weighting process, which considers our estimates for growth, profitability and valuation, is a key tenet of our portfolio management strategy and has been instrumental to our returns over the long run. In light of the heightened market volatility this quarter, we continued to make changes to weightings to reflect our concerns regarding market fragility and elevated valuations for equities.
In this environment, we continue to favor a selected set of advantaged businesses that benefit from long-term trends and offer such a compelling value proposition to their customers that they can grow through the uncertainty.
Download the Commentary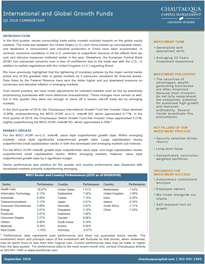 Download the full commentary to gain a deeper perspective on global markets, including a performance discussion about the Chautauqua International Growth Fund and Chautauqua Global Growth Fund.
---
Investors should consider the investment objectives, risks, charges and expenses of each fund carefully before investing. This and other information can be found in the prospectus and summary prospectus. Please read the prospectus or summary prospectus carefully before investing.
The above commentary does not provide a complete analysis of every material fact regarding any market, industry, security or portfolio. Fund holdings information, opinions and other market or economic information and data provided are as of the date of the commentary, unless another date is expressly indicated, and may change without notice. The manager's assessment of a particular industry, security or investment is intended solely to provide insight into the manager's investment process and is not a recommendation to buy or sell any security, nor investment advice.