The Women of Baird- Maggie Savage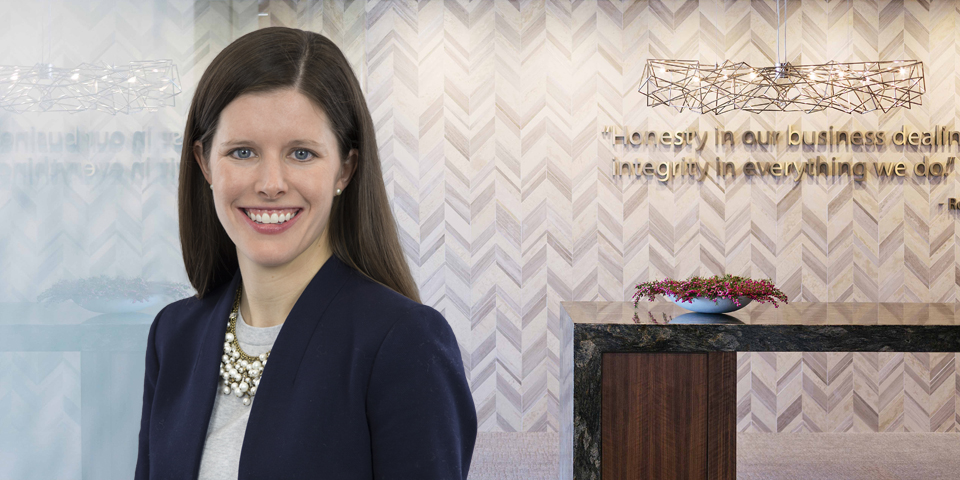 Maggie Savage
Research Analyst in Equity Asset Management
12 Years at Baird

For decades, women have been building rewarding careers at Baird, with no limits on their ability to advance in the organization. In this series, some of our most successful women talk about how Baird has helped their careers and talents to flourish. Here, Maggie Savage, a research analyst in Equity Asset Management, talks about when she knew Baird was truly different, and how her dad's advice has helped make her job more rewarding.
Why did you choose a career in financial services?
When I was in school and considering my career, finance was appealing to me because of how dynamic and fast-paced the industry is, with everything constantly changing. I've been an analyst my whole career, and in this role you're always learning, whether it's about companies or industries or mutual funds. You never can learn enough. I also enjoy working alongside very intelligent people and having debates with them about the economy, the stock market, or specific companies. I am constantly challenged and learning from those around me.
Why did you choose to do what you do at Baird?
The people are what made me realize that Baird is unique. I interned at Baird during the financial crisis in 2008 - which was a very tumultuous time in the market - and I came to appreciate the quality of people at Baird. Putting the client first is a pervasive mindset at the firm, and it was on display during the financial crisis when clients most needed our sound advice and steady hand. I have come to learn that this client-first mentality is the guiding principle for daily decision-making across all of Baird's business units. It is certainly true in my current role managing portfolios for high-net-worth clients. If there is ever a question about what to do in a portfolio, our answer is always to do right by the client.
What is your favorite part of your job?
The most rewarding and the most humbling part of my job is working with Financial Advisors and their clients to craft customized investment solutions that help the clients achieve their financial goals. I love meeting clients because it truly personalizes our process. We are no longer just managing an anonymous account; we are managing someone's hard-earned wealth, and we take that responsibility very seriously. It grounds our investment process and reminds us exactly who we are working for.
What's the best advice you've ever gotten, and who gave it to you?
"Don't be afraid to do something that scares you or is outside your comfort zone." My dad always pushed me on that, especially since it's not my personality type to do so. I try to keep that in mind whenever I have big decisions to make. Every time I've changed careers at Baird, it's been a new challenge with a steep learning curve, but the challenge has also made the transition that much more rewarding.
How do you like to spend your time outside the office?
I have three young kids so I am always busy keeping up with them and their activities. More recently we've been embracing new family activities, like skiing and golfing. We also spend a lot of time on the lakes in northern Wisconsin. The internet connection up there is spotty at best, which makes it a great place to disconnect from everyday stresses and reconnect with family and friends.
Tell me something about you that has surprised people.
I've worked in three different business units during my career at Baird, which is pretty unusual. Most people don't realize that there is a lot of opportunity to move within the firm as you grow your career.